I shared my end-of-year Favorite 2018
Books
&
Picture Books
, and now I'm looking ahead to 2019!
These are the 2019 releases I've already read, loved, and think will stand the test of time to still be favorites a year from now. All are worth a pre-order.
PICTURE BOOKS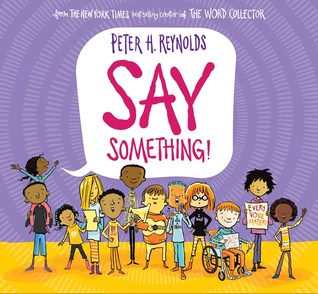 Where Are You From?
In which a girl who is asked where she's really from turns to her abuelo for the answer.
Under My Hijab
Grandma wears it clasped under her chin. Aunty pins hers up with a beautiful brooch. Jenna puts it under a sun hat when she hikes. Zara styles hers to match her outfit. As a young girl observes six very different women in her life who each wear the hijab in a unique way, she also dreams of the rich possibilities of her own future, and how she will express her own personality through her hijab. Written in sprightly rhyme and illustrated by a talented newcomer, Under My Hijab honors the diverse lives of contemporary Muslim women and girls, their love for each other, and their pride in their culture and faith.
Say Something!
The world needs your voice.
If you have a brilliant idea...say something!
If you see an injustice...say something!
In this empowering new picture book, beloved author Peter H. Reynolds explores the many ways that a single voice can make a difference. Each of us, each and every day, have the chance to say something: with our actions, our words, and our voices. Perfect for kid activists everywhere, this timely story reminds readers of the undeniable importance and power of their voice. There are so many ways to tell the world who you are...what you are thinking...and what you believe. And how you'll make it better. The time is now: SAY SOMETHING!
It's Not Hansel and Gretel
In the fairytale mashup, Hansel and Gretel talk back to the narrator, refusing to play their roles.
Carl and the Meaning of Life
From the often Caldecott-buzzed Deborah Freedman, a sweet and funny story about finding your place in the world.
Carl is an earthworm. He spends his days happily tunneling in the soil until a field mouse asks him a simple question that stops him short: "Why?" Carl's quest takes him on an adventure to meet all the animals of the forest, each of whom seems to know exactly what they were put on this earth to do, unlike the curious Carl. But it's not until the world around him has changed that Carl begins to realize everyone, no matter how small, makes a big difference just by being themselves.
Dandy
From popular author Ame Dyckman and rising star Charles Santoso comes the laugh-out-loud story of a father desperate to destroy the dandelion marring his perfectly manicured lawn, and his daughter's fierce attempts to save it.
When Daddy spots a solitary weed in his lawn, he's appalled (along with all of his neighborhood friends). But his daughter Sweetie has fallen in love with the beautiful flower, even going so far as to name it Charlotte. Racing against time and the mockery of his friends, Daddy has to find a way to get rid of the errant dandelion without breaking his little girl's heart.
The Roots of Rap: 16 Bars on the 4 Pillars of Hip Hop
Explore the roots of rap in this stunning, rhyming, triple-timing picture book!
A generation voicing
stories, hopes, and fears
founds a hip-hop nation.
Say holler if you hear.
The roots of rap and the history of hip-hop have origins that precede DJ Kool Herc and Grandmaster Flash. Kids will learn about how it evolved from folktales, spirituals, and poetry, to the showmanship of James Brown, to the culture of graffiti art and break dancing that formed around the art form and gave birth to the musical artists we know today. Written in lyrical rhythm by award-winning author and poet Carole Boston Weatherford and complete with flowing, vibrant illustrations by Frank Morrison, this book beautifully illustrates how hip-hop is a language spoken the whole world 'round, it and features a foreward by Swizz Beatz, a Grammy Award winning American hip-hop rapper, DJ, and record producer.
Remarkably You
Pat Zietlow Miller celebrates individuality in her picture book about the beauty of being yourself.
Remarkably You is a manifesto about all of the things—little or small, loud or quiet—that make us who we are.
You might go unnoticed, or shine like a star,
but wherever you go and whoever you are…
don't change how you act to be just like the rest.
Believe in yourself and the things you do best.
The Undefeated
The Newbery Award-winning author of THE CROSSOVER pens an ode to black American triumph and tribulation, with art from a two-time Caldecott Honoree.
Originally performed for ESPN's The Undefeated, this poem is a love letter to black life in the United States. It highlights the unspeakable trauma of slavery, the faith and fire of the civil rights movement, and the grit, passion, and perseverance of some of the world's greatest heroes. The text is also peppered with references to the words of Martin Luther King, Jr., Langston Hughes, Gwendolyn Brooks, and others, offering deeper insights into the accomplishments of the past, while bringing stark attention to the endurance and spirit of those surviving and thriving in the present. Robust back matter at the end provides valuable historical context and additional detail for those wishing to learn more.


EARLY READER
I'm super excited about the new
Acorn line
for ages 4-7 new readers, a younger version of Scholastic's Branches line. These are going to be perfect for my elementary students!
Pick a book. Grow a Reader! These series are part of Scholastic's early reader line, Acorn, aimed at children who are learning to read. With easy-to-read text, a short-story format, plenty of humor, and full-color artwork on every page, these books will boost reading confidence and fluency. Acorn books plant a love of reading and help readers grow!
Hello, Crabby!
Crabby is NOT happy. Sun is in Crabby's eyes. Salt is in Crabby's teeth. Sand is in Crabby's shell. Plankton tries again and again to cheer Crabby up -- with laugh-out-loud results! Will Crabby ever crack a smile? Or will Crabby always be crabby? With comic speech bubbles and full-color artwork throughout, Geisel Award Honoree Jonathan Fenske's early reader series is sure to be a hit with new readers!
Unicorn and Yeti: Sparkly New Friends
Unicorn has a horn and can do magic.
Yeti is big and furry and cannot do magic.
Yeti likes snowball fights.
Unicorn does not like snowball fights.
But Unicorn and Yeti both love sparkly things, hot chocolate with rainbow sprinkles, and -- most of all -- being best friends! These laugh-out-loud stories with full-color artwork and easy-to-read text throughout are perfect for new readers!


YOUNG ADULT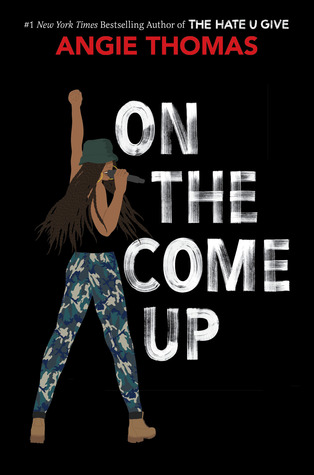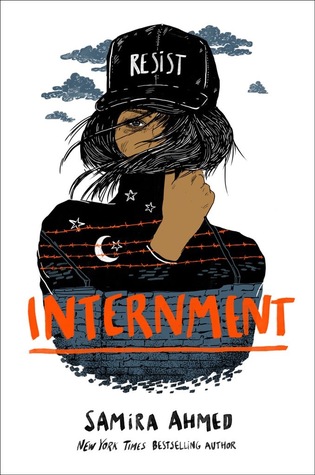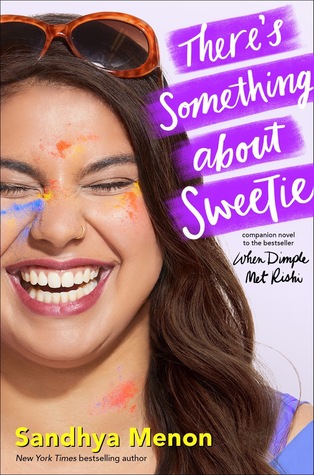 On the Come Up
Sixteen-year-old Bri wants to be one of the greatest rappers of all time. Or at least make it out of her neighborhood one day. As the daughter of an underground rap legend who died before he hit big, Bri's got big shoes to fill. But now that her mom has unexpectedly lost her job, food banks and shutoff notices are as much a part of Bri's life as beats and rhymes. With bills piling up and homelessness staring her family down, Bri no longer just wants to make it—she has to make it.
On the Come Up is Angie Thomas's homage to hip-hop, the art that sparked her passion for storytelling and continues to inspire her to this day. It is the story of fighting for your dreams, even as the odds are stacked against you; of the struggle to become who you are and not who everyone expects you to be; and of the desperate realities of poor and working-class black families.


Internment
Rebellions are built on hope.
Set in a horrifying near-future United States, seventeen-year-old Layla Amin and her parents are forced into an internment camp for Muslim American citizens.
With the help of newly made friends also trapped within the internment camp, her boyfriend on the outside, and an unexpected alliance, Layla begins a journey to fight for freedom, leading a revolution against the internment camp's Director and his guards.
Heart-racing and emotional, Internment challenges readers to fight complicit silence that exists in our society today.


Frankly in Love
This smart, romantic, and totally original coming-of-age YA contemporary debut about a Korean-American teen falling in (and out) of love is perfect for fans of The Sun is Also a Star, Eleanor & Park, and Simon vs. the Homo Sapiens Agenda.
High school senior Frank Li is a Limbo–his term for Korean-American kids who find themselves caught between their parents' traditional expectations and their own Southern California upbringing. His parents have one rule when it comes to romance–"Date Korean"–which proves complicated when Frank falls for Brit Means, who is smart, beautiful–and white. Fellow Limbo Joy Song is in a similar predicament, and so they make a pact: they'll pretend to date each other in order to gain their freedom. Frank thinks it's the perfect plan, but in the end, Frank and Joy's fake-dating maneuver leaves him wondering if he ever really understood love–or himself–at all.


There's Something About Sweetie
Ashish Patel didn't know love could be so…sucky. After he's dumped by his ex-girlfriend, his mojo goes AWOL. Even worse, his parents are annoyingly, smugly confident they could find him a better match. So, in a moment of weakness, Ash challenges them to set him up.
The Patels insist that Ashish date an Indian-American girl—under contract. Per subclause 1(a), he'll be taking his date on "fun" excursions like visiting the Hindu temple and his eccentric Gita Auntie. Kill him now. How is this ever going to work?
Sweetie Nair is many things: a formidable track athlete who can outrun most people in California, a loyal friend, a shower-singing champion. Oh, and she's also fat. To Sweetie's traditional parents, this last detail is the kiss of death.
Sweetie loves her parents, but she's so tired of being told she's lacking because she's fat. She decides it's time to kick off the Sassy Sweetie Project, where she'll show the world (and herself) what she's really made of.
Ashish and Sweetie both have something to prove. But with each date they realize there's an unexpected magic growing between them. Can they find their true selves without losing each other?


With the Fire on High
With her daughter to care for and her abuela to help support, high school senior Emoni Santiago has to make the tough decisions, and do what must be done. The one place she can let her responsibilities go is in the kitchen, where she adds a little something magical to everything she cooks, turning her food into straight-up goodness. Still, she knows she doesn't have enough time for her school's new culinary arts class, doesn't have the money for the class's trip to Spain — and shouldn't still be dreaming of someday working in a real kitchen. But even with all the rules she has for her life — and all the rules everyone expects her to play by — once Emoni starts cooking, her only real choice is to let her talent break free.