Today I'm shining the spotlight on multiple time Pura Belpré & Américas Illustrator Honor & Award Winner
Rafael López
,
illustrator of #cbadspotlight pick
The Day You Begin
and also Drum Dream Girl: How One Girl's Courage Changed Music, We've Got the Whole World in Our Hands, Maybe Something Beautiful: How Art Transformed a Neighborhood, Book Fiesta!, The Cazuela that the Farm Maiden Stirred, Bravo!: Poems About Amazing Hispanics, My Name is Celia: The Life of Celia Cruz, Tito Puente: Mambo King, and the recently published Dancing Hands: How Teresa Carreño Played the Piano for President Lincoln and Just Ask!: Be Different, Be Brave, Be You
National Book Award winner Jacqueline Woodson and two-time Pura Belpre Illustrator Award winner Rafael Lopez have teamed up to create a poignant, yet heartening book about finding courage to connect, even when you feel scared and alone.


There will be times when you walk into a roomand no one there is quite like you.


There are many reasons to feel different. Maybe it's how you look or talk, or where you're from; maybe it's what you eat, or something just as random. It's not easy to take those first steps into a place where nobody really knows you yet, but somehow you do it.




Jacqueline Woodson's lyrical text and Rafael Lopez's dazzling art reminds us that we all feel like outsiders sometimes-and how brave it is that we go forth anyway. And that sometimes, when we reach out and begin to share our stories, others will be happy to meet us halfway.
Teachers, librarians and students in the

#classroombookaday

movement. I'm here to challenge you to

read aloud a picture book every day of the school year to students at any grade.
As a child growing up in Mexico City, I commuted by metro over an hour to get to the public library. I liked spending an entire day in the stacks, where I discovered that books inspired me to dream. Each week I brought home all I could check out and carry to hold me over till my next visit. Although I struggled with mild dyslexia, picture books comforted and engaged me by answering questions and creating new ones. Without leaving home, I visited distant lands to unearth new ideas and ways of seeing beyond my own experience. I was drawn to the pictures and maps of distant places, strange bugs from foreign lands and creatures so exotic that even my own vivid imagination couldn't dream them up. Opening books grew my confidence and I began to read more and draw pictures at the library. Books gave me the chance to explore the world before I had to go out in it. The words and images I found on the pages, watered the seeds of my imagination giving me the power to discover new worlds of art and literature.


For this post, I've been asked to answer some questions about illustrations I created for our book

The Day You Begin

written by the gifted Jacqueline Woodson.
What was your inspiration for the illustrations in this book?
The initial spark for the illustrations in

The Day You Begin

, began with Jacqueline's poetic words,

"There will be times when you walk into a room and no one there is quite like you".
There is a boy in

our story named Rigoberto from Venezuela who gets teased for his accent. This triggered my own memories connecting me to the emotions in our story. When my family moved to the border in Ciudad Juarez, I became part of a school exchange program. At a young age, I traveled alone to live with a host family in the Midwest attending school there to practice my English.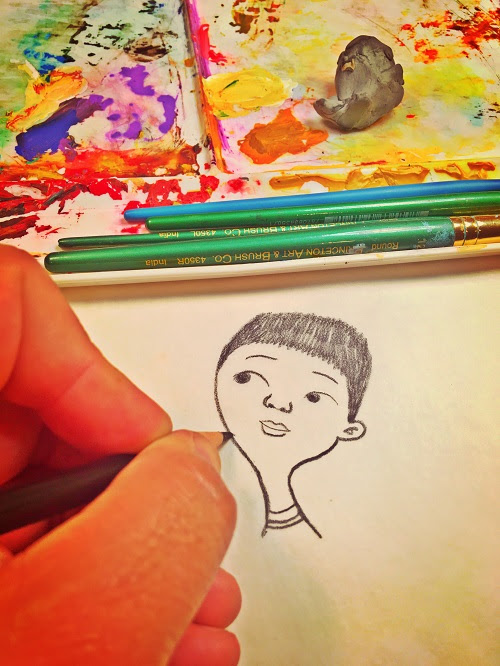 Rigoberto emerges
I will never forget feeling so out of place, so different, so alone.
I also remember a new friend who listened to my story and confided that she too felt different.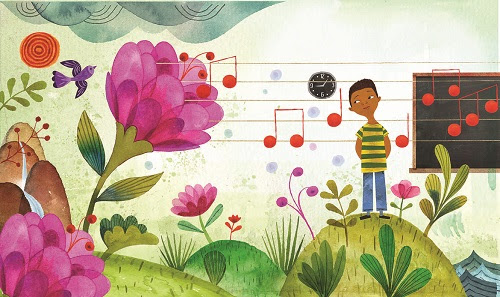 At school, Rigoberto remembers his homeland
I hoped the pages of our book would bring comfort to children struggling to find their place. I couldn't help but see myself, my own child and many children in this story. In crafting the imagery I wanted children to see themselves and translate the story into their own voice. The visual journey and inspiration for the illustrations began there.
What message do you hope kids (of all ages) take away from this book?
Going back to school is a moment charged with emotion. There is fear, uncertainty, then hopefully relief and joy all rolled up into one. This is a book about encouragement, acceptance, diversity and finding your voice when you feel alone.
I wanted children to know that it doesn't matter who you are, where you come from or what your life experience is, your voice matters.
What was your process for creating & revising the illustrations for this story?
Sketching is thinking with your pencil. It takes piles of tracing paper to find a character like Angelina. How does she think and move through the world? What are her hopes and dreams, struggles and strengths?
Searching for Angelina
Angelina Arrives
She wasn't able to travel and collect souvenirs like her classmates but spent summer at home reading books and caring for her little sister. Still, her imagination and courage took her places.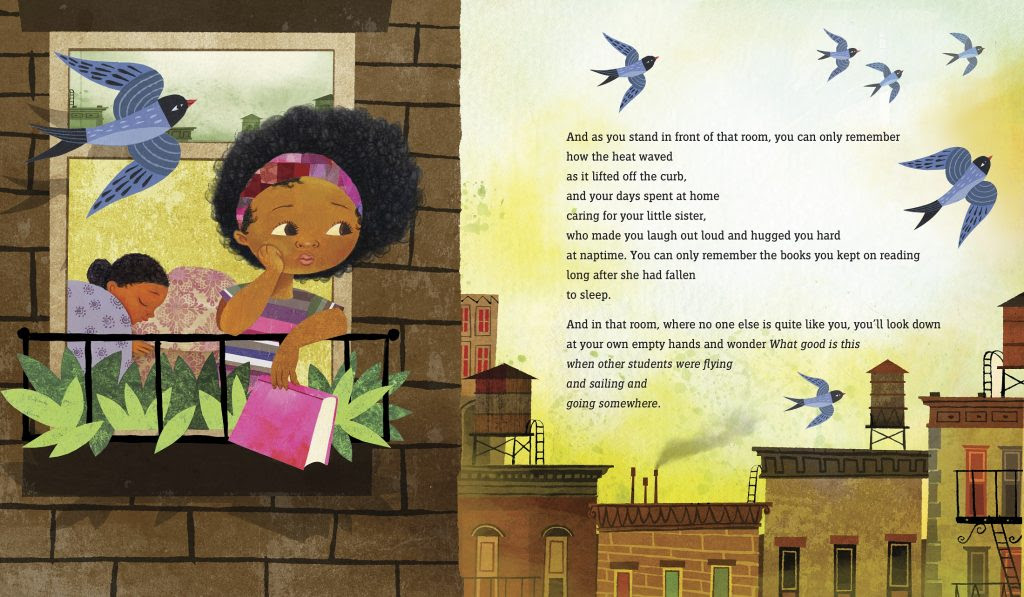 When developing a story, many original ideas don't make the cut. Still you have to try things out and keep pushing forward. It's a combination of instincts and experimentation as you dance around the right answer with your pencil. After developing 2-3 versions that feel solid, I reached out to the creative team at Penguin Random House for feedback.
Take the cover for example:
Initial brainstorming for cover
Thinking about how the design could wrap around
Using substitution with typography and figure
How will it all fit together?
Communicating emotion with body position and expression
Trying out all the angles
Finished Cover Design with hand rendered type.
You might notice the school ruler on the cover, a visual metaphor I incorporated on several of the spreads. I hoped children would see this repeating element and ask questions. How many times have we asked ourselves how we measure up?
Was there any part of the process where you worked together on the vision for this book?
Making a book is a collective effort and somehow it all comes together. There is input from writer, artist, editor, art director and it's about striking that balance without diluting visual concepts with too many opinions. I feel gratitude for the collective effort of the amazing team at Nancy Paulsen Books that collaborated guiding our book to the finish line.
Checking for consistency and flow of the story in progress
It all ends up on the studio wall to check for pacing, transitions, consistency to consider how it will connect to young readers.
What is your favorite part of making picture books?
Everyone has a story to tell and the question is how will you tell it? Creating children's picture books is a platform to do my part to craft the kind of diverse world I want to live in. It's the opportunity to share where I've been and how I got here as well as where I want to go. The language of an illustrator is ideas.
#cbadspotlight is putting the spotlight on inclusive #ownvoices books. What can you share with students about the connection you have to this book or the choices you made while writing/illustrating it to add diverse representation?
It meant a lot to me that our book was also released at the same time in Spanish

El Día En Que Descubres Quién Eres!
Both my parents were architects and teachers and as a child, my family moved from Mexico City to the border. I lived in Ciudad Juarez and crossed the bridge as an international student to begin my artistic path at the University of Texas in El Paso where many of my family members and friends live today. Like many around the country, I'm grieving for kids and families struggling with fear. I feel solidarity with people in beautiful communities like El Paso, in homes and schools around the world. Every child deserves to feel safe and valued. Each day we have to model kindness and humanity with our work, words and actions.
To mirror Jacqueline's comforting and inclusive text I developed a diverse range of characters. I wanted the illustrations to give voice to unspoken feelings and dreams. Scenes from

The Day You Begin

was inspired by my own son who is a gifted storyteller and artist with autism.
The voice of every child makes a difference.
Truly valuing and respecting each other and diversity empowers us to explore our differences in a safe, nurturing environment. Behind every child's face, language and culture there is the spark of promise. I want to continue to use my work to unleash the power of diversity.
#classroombookaday is a goal to read aloud a picture book every day of the school year to students at any grade. What would you like to say to the teachers who are taking on this challenge?
Speaking of power let's talk about teachers. What you do each day goes well beyond the classroom. The value of a teacher to encourage, care, enrich, inspire and make a genuine difference is fact. Your commitment to read a picture book aloud each day will create connections in your classroom encouraging dialogue and the sharing of ideas. You have the power to expand their vocabulary and universe. Books will grow the skills of your students to learn to think independently and collectively. To escape, have fun, find comfort and themselves and achieve their dreams.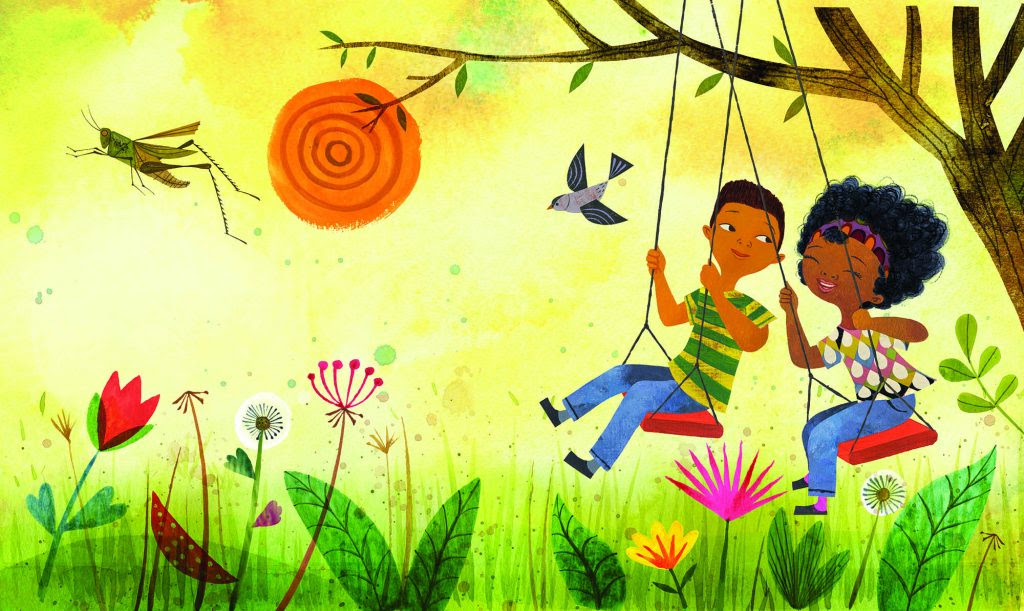 What are you waiting for?
Be sure to check out all of the #cbadspotlight choices for this school year!
Visit classroombookaday.com for more information on #classroombookaday,
a goal to read aloud a picture book every day of the school year, at any grade,
inspired by Donalyn Miller's #bookaday.